NANTES DUB CLUB#27
Vendredi 16 Février 2018
L'association Get Up ! présente
Nantes Dub Club#27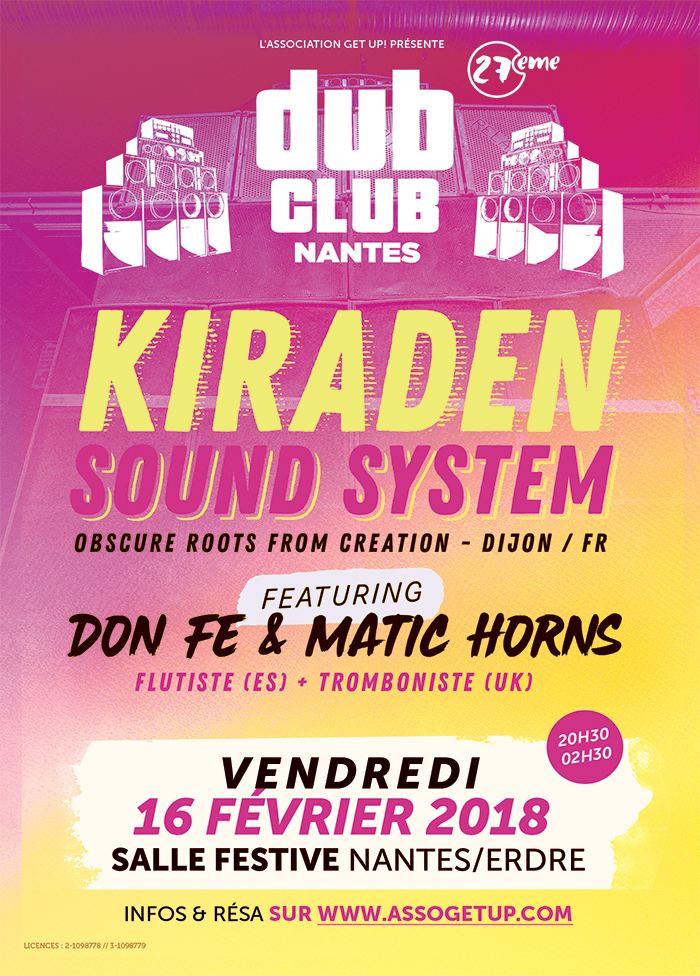 Kiraden Sound System, Obscure Roots from Creation (FR)
Premier sound system Dijonnais fondé en 2009, Kiraden opère selon la tradition anglaise et offre en session une vibration originale, un mélange de Roots profond et de Dubplates hypnotiques façon 90's, jouant une sélection strictement vinyle.
Pour l'occasion, le crew sera accompagné du flutiste et producteur Don Fe dont les riddims et productions sont aujourd'hui joué par les sounds les plus respectés du monde. Ainsi que Matic Horns, célèbre tromboniste dans le milieu Sound System qui a collaboré avec les plus grands chanteurs anglais et jamaïcains.
TARIFS :

13€ préventes étudiants/chômeurs
15€ préventes tarif normal
17€ sur place (tarif unique)
************************************************************
• Salle Festive Nantes Erdre – 251 route de St Joseph 44300 Nantes
• Ouverture des portes à 20h30 // Fin à 2h30

Bar et restauration équitable et bio sur place
CB acceptée
Pas de vestiaire sur place
—–
ALL TRIBES WELCOME TO THE DUB CLUB !