NANTES DUB CLUB#33
Vendredi 1er mars 2019
L'association Get Up ! présente Nantes Dub Club#33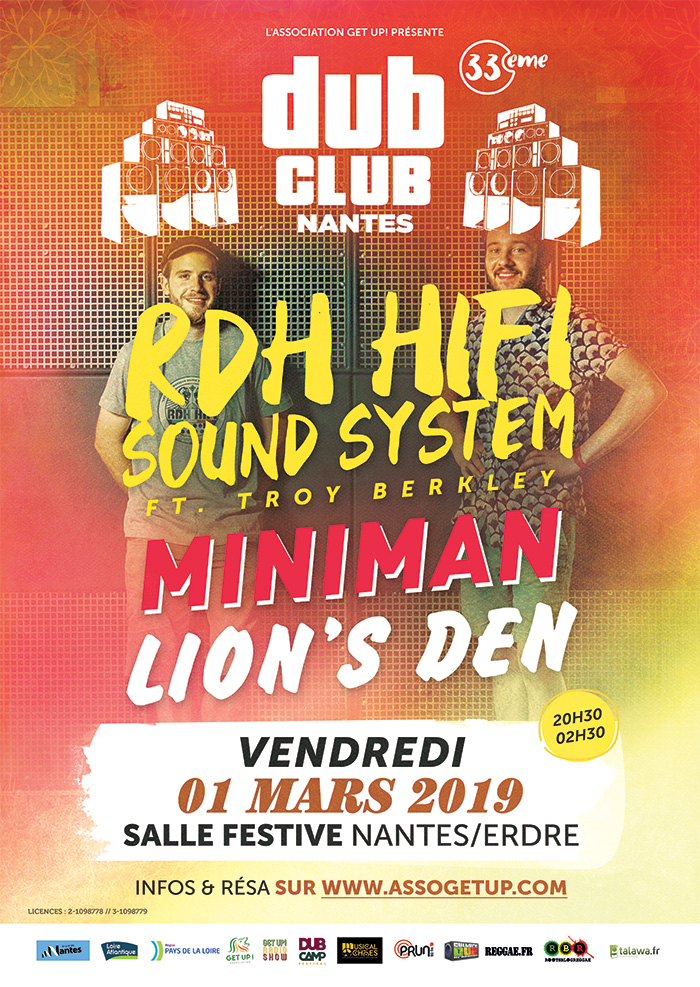 Le sound system Nantais RDH HIFI viendra sonoriser la 33ème session des Nantes Dub Club !
A travers leurs compositions originales, Clément et Simon diffusent un message de paix et d'unité. Le crew sera accompagné par le MC Troy Berkley, Miniman et le sound berlinois Lion's Den.
20 ans après ses débuts, Miniman jouera son album « Digital harmonies » sortie en novembre 2018. Amoureux du Roots'n Culture et du reggae Dub, Miniman impose une identité personnelle à son Dub détonnant qui laisse s'exprimer le roots à travers un son Digital Dub.
Lion's Den, fondé par l'activiste Ras Lion, viendra à Nantes en DJ SET présenter ses productions à base de dubplates calibrées pour le sound system !
"Music is inspiration! Music is Iration! Music is salvation! Music is meditation! Music is education! I-man play pon every station!…
Digital style assuré pour la 33ème session Nantaise !
TARIFS : 16 € en prévente / 18 € sur place

************************************************************
• Salle Festive Nantes Erdre – 251 route de St Joseph 44300 Nantes
• Ouverture des portes à 20h30 // Fin à 2h30

Bar et restauration équitable et bio sur place
CB acceptée
Pas de vestiaire sur place
—–
ALL TRIBES WELCOME TO THE DUB CLUB !